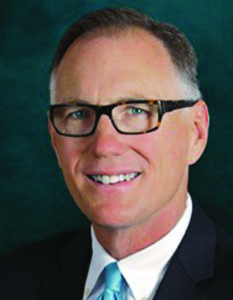 Julia Quinlan, Co-Founder and CEO of Karen Ann Quinlan Hospice is pleased to announce the appointment of Robert E. McCracken to the Memorial Governing Board. Karen Ann Quinlan Hospice is celebrating 40 years of serving the community. McCracken has been a long-time supporter of the organization and has worked to further the hospice mission to provide a full continuum of high quality medical, emotional and spiritual services to hospice patients, their family members and the community.
Robert E. McCracken, Manager of Smith-McCracken & Wood Funeral Homes, is dedicated to volunteering his time, energy and spirit in service to the community.
Bob grew up in Sussex County, where he graduated from Newton High School, then did a post-graduate year at Blair Academy in nearby Warren County. He graduated with honors from the University of Florida and later graduated cum laude from the American-McAllister Institute of Funeral Services in New York City.
He serves on the Board of Directors of Atlantic Health Systems, is the former Advisory Board Chair at Newton Medical Center, and is one of thirty-one former chairpersons of the Newton Memorial Hospital Board of Directors during its eighty years of being independent.  Bob is also a member of the Board of Directors at Lakeland Bank, a Board Member of the 200 Club of Sussex County, a member and past chair of the Sussex County Chamber of Commerce, a member of Branchville Businessmen's Club, a member of the Newton Chamber of Commerce, a member of Newton Rotary and a member of Newton Country Club.
Professionally, Bob is a member of Tri-County Funeral Directors Association, the New Jersey State Funeral Directors Association and the National Funeral Directors Association.
Bob is supportive of various non-profit community organizations and fundraisers, including Newton Medical Center's C. Edward McCracken Festival of Lights and Karen Ann Quinlan's Butterfly Release.
He and his wife, Deborah, have twin sons, Ryan and Kyle.
Bob's dedication to enhancing the quality of life for our community has been his passion and focus as both a businessman and a volunteer.